MODERNIDADE PERMANENTE PORTO I
|


Structural Contingencies Studio

MA1 GHENT 2020-2021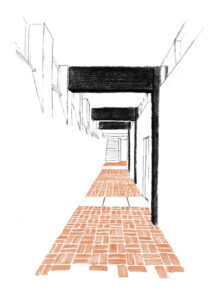 Modernidade Permanente
Regenerating the city. Layered traces from the past creating a new future.
The site of Charleroi is the scene of intervention: a vacant shopping structure in a dense historic city centre by modernist architect Léon Stynen. For five months, 12 students worked intensively on this assignment full of frictions, dissecting the site in every possible way. In order to tackle the questions on an architectonic level, they analysed several buildings from the Porto School, subtracting landscape techniques to humanise a place. Coimbra, as our mental space, offered tools to rethink reconversion by engaging with history and memory in a creative way. The connection with landscape, perspective and time in the work of Fernando Tavora and Alvaro Siza served our agenda of reconnecting to the regional context.
In these secluded times, many encounters with the students were digital, and also a study visit to Portugal became impossible. Before the kick off in February 2020, the studio wandered off to Portugal in every other manner left to us.
as it had formulated at the time a fundamental critique against post war functionalism and any international formalism. In search for architectural poetics, sensitive materiality and the human scale, the buildings of this generation grow from the design of an autonomous archaeology that engages with history. How did their tools and endeavours differ from the ones of Belgian architects that defined the post war landscape of our cities? Both labelled brutalism…
To experiment with these questions, the Portuguese ideas and sensibilities were introduced to Charleroi: to the former C&A building of Léon Stynen and its urban surroundings. As hilly as Coimbra, Charleroi had offered its own specific context for modernist architects. It is the brutalist case study through which we explored the idea of the city as a landscape, an urbanity of nature, interiors and rooms. How can this abandoned concrete structure, situated at the centre, inspire Charleroi again? Through Coimbra, the students were challenged to crack its genetic code and transform the buildings' typology, formal logic and materiality into something human. How can we understand its past as a new layer for future developments? How do we rewrite its architectonic language in order to address the challenges society poses today? What are your co-ordinates as a designing architect?
Questions of reuse and starting over again.
A ruin, a city and a landscape of concrete and natural stone.
Maybe focus more on the surrounding landscape?
The studio outcome are architectural strategies and worked-out proposals that re-interpret the buildings' qualities, so that it can resume its role as a semi-public space in the city.
The collective of all the plans regards the Stynen building as a symbol for a new, future oriented and open spirit of Charleroi, while they ensure connections with traditions and the local stubborn DNA. It is this valuing of the past that creates a future for recent architectural heritage.
We are most grateful to:
Architect Professor Paulo Providencia, Faculty of Architecture, Coimbra University, for all the information, profound knowledge and the generous insights.
Architect Bruno Silvestre, Department of Architecture and Landscape, Kingston School of Arts, for his thoughts and generous expertise.
Both their capability of reading space through plans, of sharing architecture as craft, poetics and language, came to us even when the pandemic forced us to communicate through a computer screen. Their evaluations and suggestions during the intermediate critique have been of great value for our students.
Mr. François De Waele, le directeur de l'Institut Saint-Joseph, for guiding us through his school which borders our site. Standing on the rooftop of his building gave our studio energy and his insights created a sense of urgency to the work of our students.
Le Bouwmeester de Charleroi, Georgios Maillis et son équipe, for all the research and exciting projects they share through their website, and their generative approach towards a Charleroi for the future.
Teachers:
Caroline Voet
Eireen Schreurs
Students:
Bram De Gieter
Jonas De Brauwer
Mara T'joen
Louise Klimo
Eline Debaets
Brecht Cornelli
Michaël Janssens de Varebeke
Sylvain Wuyts
Laura Vanhoegaerden
Evelyn Van Durme
Sven Jacods
Astrid Abbeel